---
02. in Taipei, a discussion with SMIRK creator & designer of GOOPiMADE
shot in Mars 2019

Tell me a little bit about yourself.
Smirk: I come from Taichung. I moved to Taipei to pursue my studies in University where I majored in Foreign Languages however, it wasn't my main interest which is the clothing industry. When I was living in Taichung I used to hang out with several designers, they treated me like a little brother. I spent a lot of time after school at their atelier learning about their philosophy, craft and work ethic.
At a young age, you developed a curiosity towards Fashion Culture?
Smirk: I cannot tell but one thing is sure, I was curious, I always wanted to dress better, to wear something unique, to be different. Lessons in school were boring, it didn't fit me, I jumped on the occasion to learn interesting things outside of the school system. I also recall going to one of the biggest retail store (back then) called EST where I discussed with the shop owner. He introduced me to a few non-mainstream brands, that's when I really start paying attention to details, the craftsmanship & tailoring. Going to the army marked another milestone in my life.

How so?
Smirk: Well, I spent one year there, it was the largest military clothes warehouse. We were providing all the gears, from helmets, vests & boots to the whole country. In that short amount of time I was lucky enough to discover all kind of Taiwanese military gears.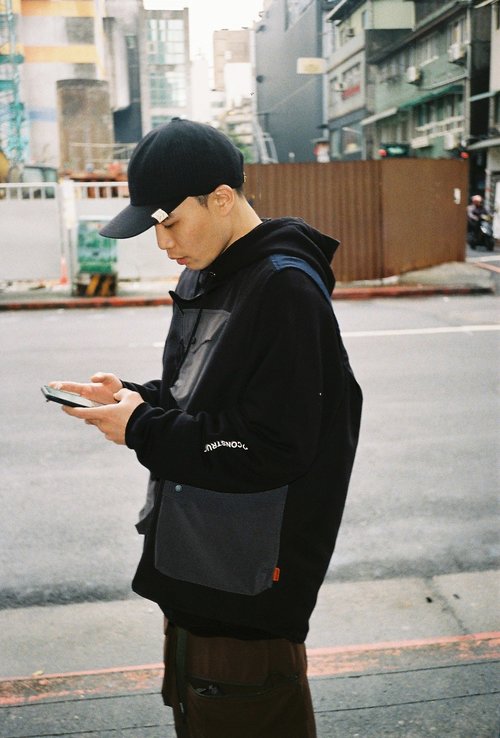 It wasn't as advanced as the ones you would find in the US army but, it was still fascinating. I had the opportunity to study about the specific function of each garments. For example, we had 50 type of boots used for various regiment & military units. I developed a deep interest in several non-mainstream brands who were making excellent products & fabrics. Following that year spent in the army, I met a designer from Japan who introduced MEANSWHILE, a Japanese brand founded in 2014. It quickly became one of my favorite.
What kind of style & aesthetic were you wearing before your interest in military gears?Smirk: Mostly Streetwear brands such as Supreme, Original Fake & Neighborhood. With time my style slowly evolved. When I was in the army my interest about outdoor clothing quickly grew mostly because I was doing a lot of researches about fabrics. Shortly after I got into the Cyber Punk aesthetic with no logo brands like Acronym. At the same period, I began Goopi.co with my girlfriend. We knew several Taiwanese designers and thought about helping them by showcasing their work through our platform. Our aim was to influence people, to get their attention by introducing those labels.
How did it work, were you just asking for their clothes, then taking pictures to post online?
Smirk: Kind of, we were selecting a bunch of their clothes to sell and we were getting a small benefit from the selling. We created this online store to promote brands that 90% of people wouldn't be able to discover by themselves. A lot of people are into hype, mainstream items, there is nothing new about it however the fact that people get tired quite easily about « things » instead of purchasing something greater, that will last, it is such a pity.
It's about having personality first and foremost. « Don't let your clothes wear you »...
Smirk: True. They should read, do more researches on the brand they like, that's how you develop a deeper interest, some appreciation, respect and value. I can give you some basics examples, it seemed that nowadays, most of the rich people are chasing brands like Balenciaga, Off White or even Supreme, others will buy from Zara, H&M or Uniqlo. In my opinion, these Fast Fashion brands are poisons to this industry.
It is not new, it has always been the case. However, when you don't have that kind of money, where would you go? Brands like Uniqlo are still a really solid alternative, a place where you can buy basics clothes for interesting prices…
Smirk: It is true, I am not saying don't go to Uniqlo! However, people don't think about sustainability and the simple fact that if you just think "what if I add an extra money on this piece, instead of buying this" , you'll probably get something different and be able to keep that item for a longer time. It is all about investing in qualities, not quantities…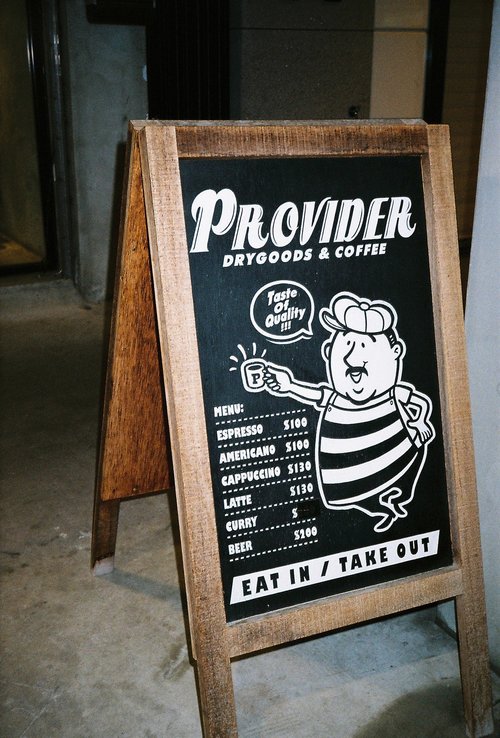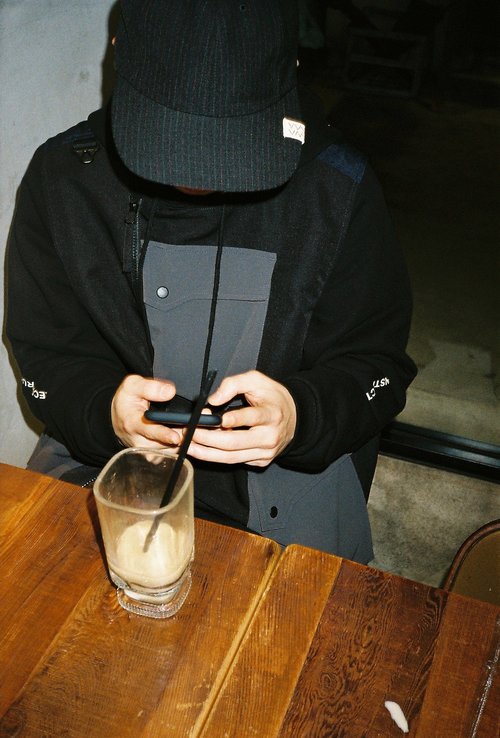 Yes of course. A lot of Fashion brands are trying to deal with that issue, we're noticing a new movement emerging, "Slow Fashion" since a few years… That is only when you moved to Taipei that this idea of creating Goopi.co manifest oneself? You never thought about launching this concept whilst in Taichung?Smirk: No, I didn't. I think there are a lot of teenagers, like me, who dreamt about opening their own store. I never thought that it would have been possible, to make this dream a reality because I had no money to invest. I am truly thankful to have encountered these people, designers that allowed me to have a bit of resource to try and build this business.
What's the meaning of Goopi?
Smirk: It's a direct translation from a Chinese word to English. It's a personality traits which means you are very isolated, you're doing things on your own, you don't have friends.

When did you establish it?
Smirk: Three years ago. We are a select shop, who's carrying 25 brands from Japan, Hong Kong, and Taiwan. We are also the wholesale distributor of 5 brands including one from Japan, Okayama, one from Jakarta & Shanghai. Like I said, our aim is to showcase and promote these labels to people, our costumers or simply, those who are showing a deep interest in this definite aesthetic.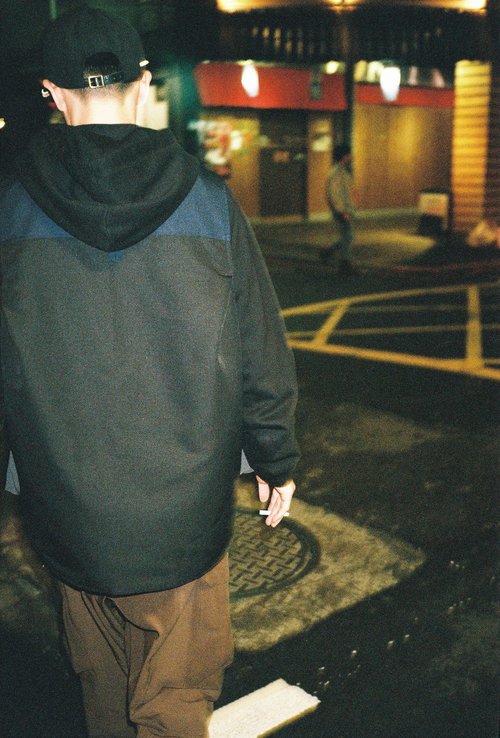 25 that's a lot of brands!
Smirk: Yes, half are Taiwanese designers brand but none of them are famous. We will never stock mainstream brands. Our costumers love what we are carrying and I am not sure how many people we can influence, I am not that confident to say that we are famous at all, but we want to take this platform to another level because we are working with talented, genuine people. GOOPiMADE is the second project we launched a year after Goopi.co.
What's the main reason for establishing your own label?
Smirk: We loved workwear garments and were looking for brands who were selling worker pants with a specific cutting. We were invited to an event in Japan. We spent nine days just to find this single piece. We stumbled on a few brands though they didn't fill up all the criteria we were looking for. Then, we decided to make ours. At first, we sketched a cargo pant model, shortly after we were lucky to meet and had the opportunity to work with a factory that provides their savoir-faire & high-end fabrics to The North Face and Stone Island.
That's quite a privilege.
Smirk: It is. Perhaps you don't know but Taiwanese factories aren't the best one when it comes to developing cotton fabric, we are a very wet country, however, we have some of the highest facilities to develop polyester and nylon fabrics. We were fortunate to work with them because we aren't a huge label, we cannot order that many quantities of fabrics but they were willing and very pleased to share their expertise with us for a lower cost.

When you designed your first item, the cargo pant, were you satisfied with the result?Smirk: I will be honest, I don't think the quality was excellent but our price were not crazy, nowadays they are a bit higher, although we aren't solely focusing on that. We want our costumers to receive more than what they're paying for. We often use the North Face fabric while cutting our prices by half. It's hard to compete with North Face, the comparison could not be accurate but we always think about a reasonable cost for our products whilst using the best materials. We took the opportunity to work alongside this supplier to create our fabric. As a result, more than 70% of our clothes are using the fabrics we developed. We are using a lot of three layers combined fabric, 10k waterproof and breathable fabric combined. We are making the style I enjoyed wearing when I was younger: clothes without apparent, bold logos, with premium materials with smart functionality.

How would you describe your brand to someone who has never heard about it and has no clue whatsoever about that aesthetic?
Smirk: It is an urban outdoor style mixed with a military aesthetic & gears. Important fact, our cutting will always change from the classic military garments, you will often find in our design various pockets or patchworks, for one piece of cloth we will use several types of fabrics.I thought about tee shirts design recently and how it could be the simplest item ever. A basic and plain tee shirt will always be a stand out piece. You said that you like playing with fabrics.

When you have a tee shirt idea, do you think about producing something more complex than it looks like?
Smirk: We have in our collection a classic pocket tee, on the front, there is a tiny logo. The pocket could be open from the top, the side and has separate storage, it's a tricky-dimensional pocket. We are using Japanese cotton, a heavy but breathable one. Our desire is to produce something unseen even if it's a basic like a tee shirt. I will design everything I want to buy. If it's just a regular, plain pocket tee, I would never be interested in, that is why I have to invent a product that sparked my interests!

Can you tell me a little bit about your process of work, when you're thinking about making a whole collection?
Smirk: We are not a formal brand but a creative group. We are releasing items randomly without any preview, any specific schedule. For example, in a month we will release one or two items, never an entire collection. In the end, if you wear every single pieces we released all together, you will get the full catalog. That is what we have been doing for the past two years.

But everything is planned?
Smirk: Yes, everything is well thought. We already prepared our schedule production to spring/summer 2020 including all collaborations.

By releasing your clothes in a completely random manner, you are creating demand.
Smirk: True, I think it will make the customer excited and curious. When we are releasing an item it is usually sold out within a minute which is tricky and risky because we don't know, unlike the formal brands what quantity we should produce or not. They would usually predict how many customers would be interested and how many pieces of clothes their retailers want to order. We, at the opposite, won't. We take risks every time by asking how many pieces they want to order after we produce them.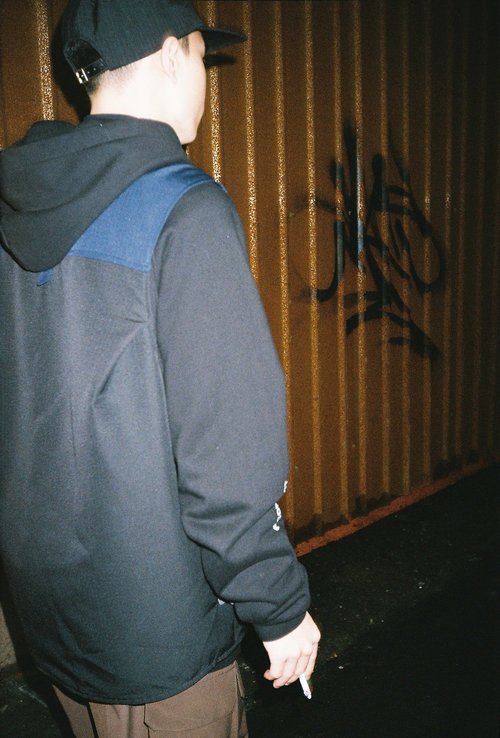 What about a sold out item?
Smirk: We never re-stock, you'll never find it again unless there are a lot of fakes produced. But I am sure even if they are fakes out here, they'll never reach our production level…
Who does what in your company?
Smirk: Both my girlfriend and I are taking care of the design aspect, our design studio is not lacking any part, all of the people working are our friends, we grew up together.
How many pieces you're designing a year?
Smirk: Around 18 to 20.
Are you traveling often to find inspiration, to discover new fabrics?
Smirk: I am always lacking knowledge, traveling is a necessity. I am busy these days but we make sure to visit Japan at least twice a year.
What piece of clothes you're wearing on a daily basis?
Smirk: Our main item the cargo pant. We put so much effort, and focus on the design. We developed various types, each one with a specific narrative, I love wearing it. We are being very careful when it comes to the production aspect.
Are you still buying other designers brands?
Smirk: Of course, no matter where they come from and produced I will still buy other products out of respect the designers work. I wouldn't wear my brand from head to toe, I enjoy mixing.
Last time I was working on a shooting for a brand and they were using a cargo pant. I have to tell you, it's quite funny because I had a feeling it was your design without even seeing the tag…
Smirk: That makes me happy. I told you before, there is no obvious logos, symbols or signature but somehow you feel the soul. The cutting, the pockets makes you think GOOPiMADE, that's is our aim so thanks you so much!
When you think about design, and it is not new to say that appropriating ideas has always been something reluctant in fashion… One of the first brands I have in mind is Visvim, there are a lot of Visvim "2.0" in Japan, many brands that are sharing the same aesthetic. What are your thoughts on that?
Smirk: Are the designers afraid of copying another design's brands?
Yes.
Smirk: Like you said, it is not new, this situation happens a lot. What we can do is try our best to avoid it. I think most of the Japanese brands are alike because they enjoy designing classics items. Everyone is copying the military gears including Supreme. Take as an example of the staple that is the M-51 and M-65 jackets, they always have a similar look. Is it a classic item or a shallow copy? In my opinion, clothes aren't solely what they look like. It is true, a lot of Japanese brands are similar but they are ultimately different. Just think about the fabrics they're using and the precise attention to the smallest details, that is what makes them unique.
These designers have to think about their core costumers and the regular ones. It's important to design classic silhouettes.
I didn't think about that… Thanks for the clarification! What's the next for you guys?
Smirk: We are still learning, our desire is to expand our market by targeting Europe or the US. It is slowly growing, we want to make the business more steady and stable. If the market still wants us, that's enough, we don't ask for more. If our costumers keep buying our products, even if it's a small amount, we will be pleased.
Is there such things as impossible design?
Smirk: In term of the conception? Not really, we know how it works, what is possible and what is not. Almost 99% is possible.