---
in Paris, a discussion with James owner of Paperboy Paris.
shot in November 2018
What is your background, where did you grew up?
I'm 33 years old, I grew up in between the 92 ( in the suburbs) and the nineteen boroughs in Paris. When I was 17 I moved around a lot. I lived in New York for one year and also spent some time in London… Going to school wasn't really something on my mind, yet, I studied in a Cooking institute when I was 15. Around 18, I was doing modeling, one of the reasons I began to travel at an early age. This experience allowed me to see things from a different perspective. Modeling last a few years but I somehow always knew that I wanted to create my own thing, have my own space. Traveling definitely opened my mind to other cultures, to other people. Paperboy is a combination of everything I experienced.
What about your parents, were they in the restaurant business also?
Not at all, however, they've always been very supportive of everything I was trying to achieve.
What was the leitmotiv for opening your own space? Did it come from your passion for food?
I always wanted to open a place, a concrete space. Obviously, Paperboy is a restaurant, a canteen but also a living & cultural place. There are many people who meet here to discuss, to work, kids who support us and come spend their afternoon there from time to time.
Where does the name PaperBoy come from?
Well, nothing really deep & super conceptual around the name. It just reminds me of my childhood, the 90's, all the MTV generation you know. In a lot of American movies, we often saw this little guy who rides a BMX & distributing newspapers! It is also a little reminder of the cult video game on Nintendo we used to play.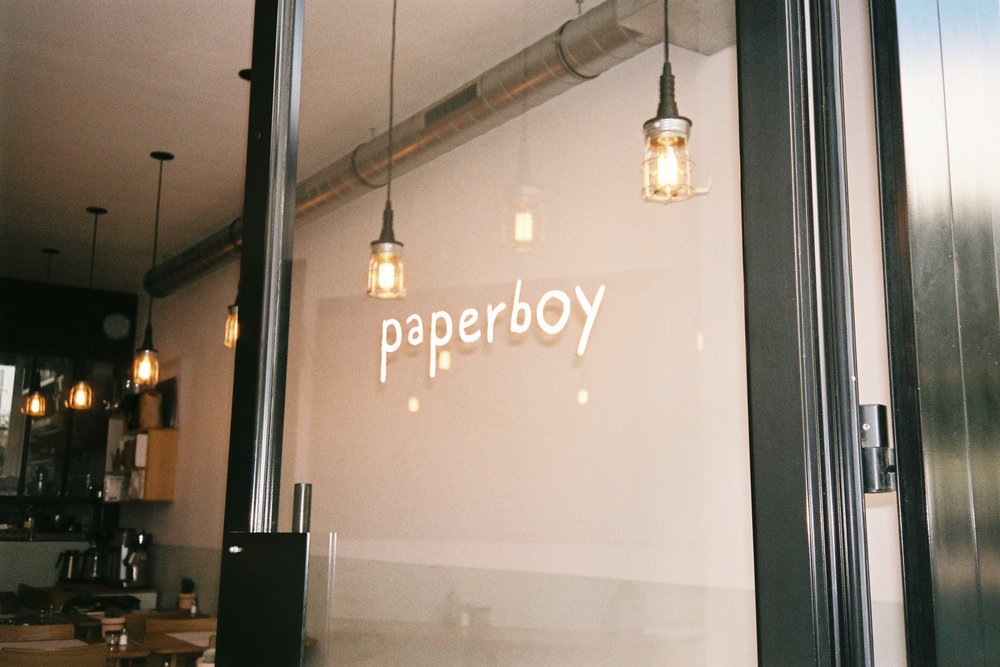 It is surely a difficult thing to open your own restaurant in Paris. Was it complicated to build this project?
I did not really have difficulties besides the fact that you must convince the real estate agents, the banks... The most complex thing was having to explain to them the concept, what I had in mind.
And what about the retail space, did you find it as it is or did you do some renovations to make it look like yours?
The place was not as you can see it now. Previously, there were offices, a photo studio, no kitchen, partitions, nothing. We built everything from scratch, the work lasted around 3.4 months no more, no less. I was lucky to have the help of my girlfriend, Jeanne, too. She works in the fashion industry and has expressed her artistic fiber to take care of decoration, she also had the idea to create the uniforms. It has given us a good artistic direction.
And you didn't think about opening a Record Store instead?
Trix: Not really, but I started a label with friend at 2007; Called CNG Records (長腦筋唱片). At first we imported records, sold them online, like the guy I met. When we started the second band, we were thinking to operate in a different manner, we released our music and our friend's band through the label, and aim to provide a label culture independently which didn't exist here. We also self-organized shows through the label. When I went to army in 2008, I had plenty time to think, I aspired to create something for our friends and community. So when I left the army, we invited bands from Japan to do gigs with us and self-produced our first debut event in 2009. Nowadays you can see a lot of bands from Japan touring in Taipei, back then they weren't many.




How do you define the Paperboy kitchen?
In terms of menu, we do not lock ourselves into something predefined like some restaurants that are only specialized in sandwiches, pizzas... We really do what we want, we mix very often various types of cooking, like French with Japanese, Scandinavian bread. We make hybrids. We are a dozen people working here and, every person has his role, brings his stone. We are simply food lovers. All that I have been able to accumulate during these years, we try to put it in the atmosphere of the restaurant and also on the meals. We have a sentence a little cheesy certainly but that summarizes us well: healthy gourmet because we eat things that do not hurt us. What you find in our dishes are healthy products with a lot of taste. We like to insist on the freshness of our products. They are selected by us. For example, for the delicatessen we work with Norbert, an excellent butcher Rue des Ecouffes. We get our pastrami from an independent, Will Smoke Meat. Otherwise, it's been about a year since that we started a new cooking turn by using more and more fish. We love to cook tuna tataki, salmon, seabream or swordfish. The Japanese eat it with rice, we prepare it in sandwiches with wasabi, marinated sauces mixed with raw vegetables. As I told you, we do not lock ourselves into a particular cooking style, you can find sushi in buns! Our motto is when people leave Paperboy it is with a smile.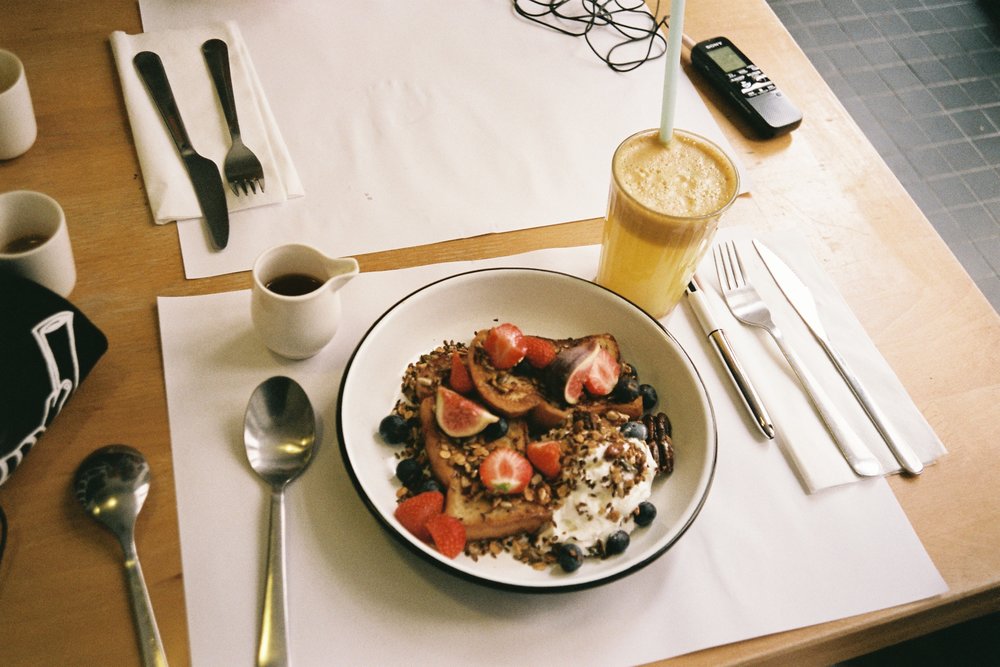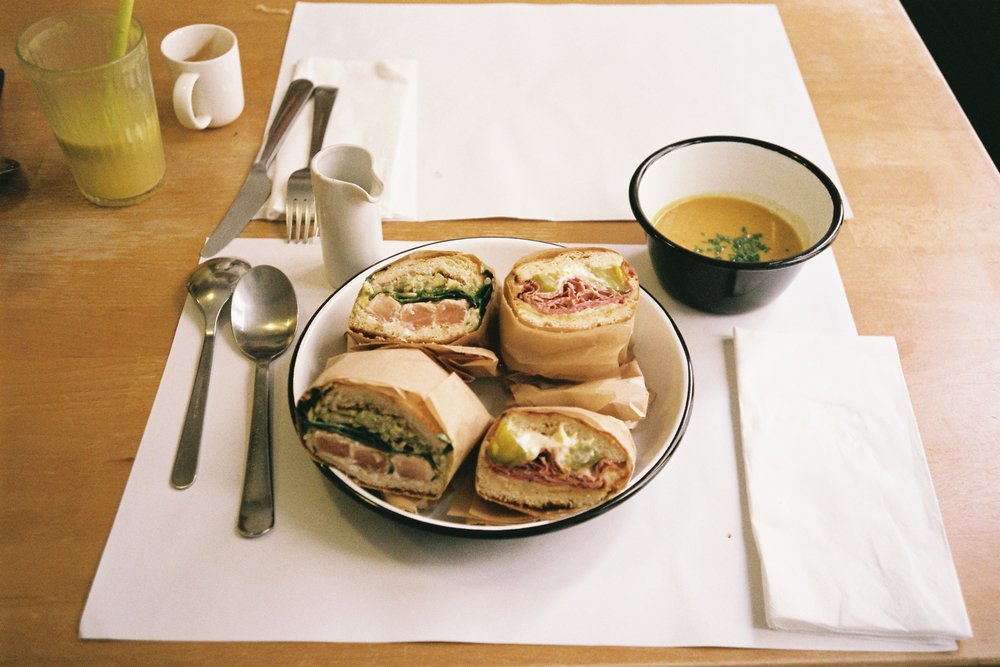 You must be documenting yourself in a permanent way.
Yes, absolutely. Everything is going so fast with restaurants opening every day you have to stay aware of your surroundings. At the same time, it's good to see things evolve. I watch a lot of culinary shows that ViceLand produces, especially the one with Action Bronson and Eddie Huang. They are familiar to me because we share the same culture: street food with excellent products that we consume in a simple way without embellishment. Today I think gastronomy is perceived otherwise. I guess you had always considered developing this project beyond the simple restaurant. ndeed, I already had all these ideas in mind. From the beginning, Paperboy was more than just a restaurant, I wanted it to become a label in a way. When you look at what the Japanese are doing, having a business sector and then make it proliferate (by making music or developing a clothing line). Unfortunately, the problem in France is that you are immediately typecast, you have to stay in your sector. In the end, the ideal thing would be to open an office. With all the talents that I meet, those we work with, to be able to transform this energy into something creative, why not open a music label, produce a clothing line as well? I do not hide that it is something that I am thinking about more and more. I also want to keep traveling of course! We take everything steps by steps, there are plenty of projects that are on the way, 2018 is going to be a good year for us.

Do you easily assume a leadership role?
It is complicated because it is true that we are all pals, they look at me as their big brother, however, the organization is quite simple here: we consult each other very regularly. I try to exchange with everyone even when I make the menu with the chef, I always want to know what the crew like, what they are thinking, also about how we should manage our communication & the events.
Your favorite ingredient of the moment when you make dishes?
Raw fish, right now it's really the ingredient that stirs my curiosity. In addition, I eat less meat, I am surrounded by people who are fighting for the defense of animals, so, unconsciously, I feel that it influences me as well! (laughs) I rarely eat chicken so naturally, I turned to seafood. It goes hand in hand with our cooking, we have already seen and reviewed the different manners of preparing meat whereas finding someways to innovate with fish is something totally new.
Is there a PaPerBoy signature?
Of course! Every month or even two months the menu is evolving. However, we have 3 recipes that won't change: The Smoked Meat (with pastrami), and I think the reputation of the restaurant was probably made on this sandwich; it's the ultimate simplicity. We also serve the Peanut Butter Cookie and now the Salmon Tataki.
And what about the dessert menu?
My sister Diane takes care of the pastries. You know we are used to making breakfasts in Catering for brands. Of this fact, we had to re-think about making pastries one of our leading meals.
Then, you have the luxury of being able to choose these events?
Yes and no. Of course, you have to think about the marketing aspect you can get from it but above all, about a certain profitability. If you have neither, we will not be interested.
What is your involvement in menu development and overall design?
It all started with a product, for example, I came across an interesting reportage on swordfish quite recently then, I immediately think about how to cook it. As I told you, we do not cook super elaborate meals. We try to put the product forward, the seasoning is very important. We gravitate around his conception. We use Japanese, American, Korean products that we stock and make our mixtures trying to find our signature until we find the perfect match.
After almost 4 years of existence, do you think you have achieved the goal you set when you opened?
Yes, I'm very happy, but I'm still growing, as soon as I feel like I'm not moving fast enough, I start thinking about what's next. At the end of the year, I've set myself another step to overcome. We also collaborate with BBDO a big advertising agency, it's been a year that we are working on this project, (and for the anecdote if you watch the series Mad Men, BBDO is their direct competitor) The deal would be to open a restaurant on the top floor of their offices!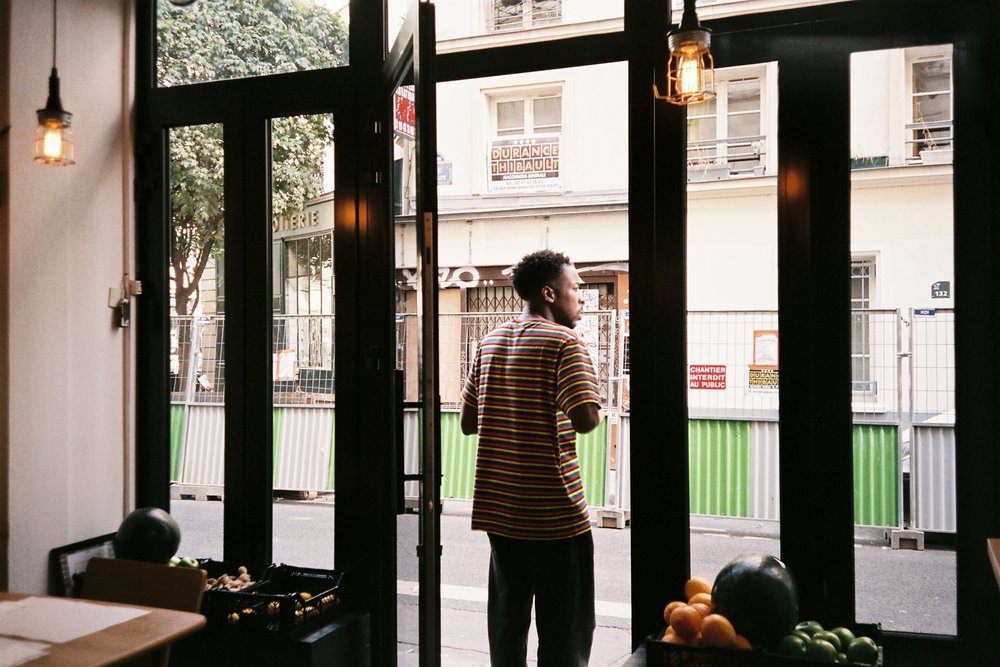 How do you manage your schedule with all these projects?
It's a struggle! These days, I'm not too much at the Paperboy, I stop by every day, an hour or two, I mainly have appointments to manage everything, that's it. I do not have any real assistant to work with, everyone puts their hand in the stirrups, it's a nice feeling.
Your most interesting gastronomic encounter to date?
I have been enjoying the work of Alain Passard for years, a great starred chef who is a kind of inspiration! I do not know if you remember but there was this crazy cow story about fifteen years ago in France, and while he had 3 Michelin stars he decided to stop cooking with meat and to produce only vegetable-based dishes while managing to keep his Michelin stars. I find it completely crazy! It is a true artist.

When you do not work, what do you like to do?
Frankly, I work every day! Before, I often went to the cinema, to see exhibitions. Now it's Paperboy h24. I have a little girl now, I spend a lot of time with her.